Sunil Joshi, MD was born and raised in Jacksonville. He grew up in Arlington and attended Terry Parker High School . After graduating in 1990, he attended the University of Florida where he earned a BS in Chemistry in 1994.
He then entered the University of Florida College of Medicine. While in medical school, Dr.Joshi received many honors. The one that he is most proud of is the Student Hippocratic award given by the medical students to "a classmate who represents honor, dignity, and a genuine passion for all those seeking medical care." Dr. Joshi served as his medical school class president from 1995-1998, and was bestowed with the honor of giving the student address at graduation. During the ceremony, his classmates presented him with a special one-time award, The Most Valuable Person Award. This recognized his significant contribution to education, advancement of student issues, and his desire to help the class become successful. That day, May 23rd 1998, remains one of his most memorable.
After graduating from medical school, Dr. Joshi attended the Mayo Clinic Internal Medicine Residency Training program in Jacksonville . He completed his residency in 2001 and served as chief resident in 2001-02. During his time at Mayo, Dr. Joshi received the Golden Apple Teaching Award and was honored to receive the Antonelli Award given to the "most outstanding senior resident."
Dr. Joshi received his Allergy/Immunology fellowship training at the University of Rochester in New York . His training was completed in 2004.
Dr. Joshi joined Dr. Prabhu's very successful and respected practice in July of 2004, and became a partner in 2006. He truly enjoys treating patients with allergic disorders and believes that education of these disease processes can bring better care to the public. He spends his own time teaching residents and medical students at The Mayo Clinic about allergic and immunologic diseases. He has appeared on WJXT channel-4's "Morning Show" many times to discuss allergy related issues and had a medical segment on Action News called "Ask Dr. J"  (in 2012 and 2013) where he answered questions about any timely medical topic live in studio and with social media on the 4th Monday of every month.
He has also been able to contribute to the community's health by serving as Editor-in-Chief of Northeast Florida Medicine, the only peer-reviewed medical journal in Florida. He is  a Past-President of the Duval County Medical Society (the largest and oldest Medical Society in Florida) and currently is the President of the Duval County Medical Society Foundation.  Dr. Joshi is a Past-President of the University of Florida Medical Alumni Association, and a Past-President of the Florida Allergy Asthma Immunology Society. He also serves on the Board of Directors for the Florida Chapter of the American Lung Association.
Currently Dr. Joshi is a co-chairman of the #FluVaxJax initiative of the Duval County Medical Society Foundation. He is working very closely with City of Jacksonville to promote the efficacy and safety of the Flu Vaccine in order to encourage more people in Northeast Florida to be vaccinated so that local hospital systems do not get overwhelmed during the COVID19 pandemic. The Foundation is also working on ways to minimize food deserts and gun violence in Northeast Florida. He is most proud of the efforts of the Foundation in helping to reduce the rate of physician burnout in the Jacksonville area as well.   
When he's not working, Dr. Joshi enjoys spending time with his daughter (Saloni) and son (Sohan). He enjoys watching sports (football in particular) and playing golf. He is actively involved helping to secure the long term success of the Jacksonville Jaguars as a  member of the "Bold City Brigade."  As the years go on, Dr. Joshi hopes to be more involved in local projects to improve the already great quality of life in Jacksonville .
Hary Katz, M.D. grew up in South Florida. He attended the University of Florida, where he earned a Bachelor of Science degree in Neurobiological Sciences in 1995. He earned his M.D. degree from the University of Miami in 1999.
He completed his residency in Pediatrics at Nationwide Children's Hospital/The Ohio State University Medical Center. He completed his Allergy/Immunology fellowship at The Cleveland Clinic Foundation in 2004. After completing his fellowship, Dr. Katz spent 5 years at the Nemours Children's Clinic in Jacksonville.
Dr. Katz is a Fellow of the American Academy of Pediatrics and Fellow of the American College of Allergy, Asthma and Immunology. His interests include asthma and food allergies, and he has given numerous lectures on these subjects. He has received multiple teaching awards during his career.
Hary is married to Jennifer, and they have 2 children—Rebecca and Joshua. Hary enjoys spending time with his family and friends. He is an avid Gators Fan!
Dr. Dorman completed an internship and residency in internal medicine as well as a fellowship in Allergy and Immunology at the University of Texas Southwestern Medical Center in Dallas, TX. Dr. Dorman is board certified in allergy & immunology as well as internal medicine. He is certified in basic life support as well as advanced cardiac life support. He is a Fellow of the American College of Allergy, Asthma, and Immunology and is also a Fellow of the American Academy of Allergy, Asthma, and Immunology. He is a member of the Florida Allergy Asthma and Immunology Society. He serves in leadership capacity for these societies at a state and national level. He is also a member of the Florida Medical Association and the Duval County Medical Society. He completed his medical degree at Texas A&M Health Sciences Center College of Medicine. He holds a Bachelor of Sciences degree in Biomedical Sciences from Texas A&M University in College Station, TX, graduating cum laude.
His clinical interests include allergies affecting the nose, sinuses and lungs, sinus disease, insect and venom allergy, contact dermatitis, drug allergy, food allergy, eczema / atopic dermatitis, urticarial hives, angioedema, and immunodeficiency disorders.  He is dedicated to improving health and overall quality of life and takes his role in the allergy treatment and prevention of disease for his patients very seriously.
Outside of work, Dr. Dorman loves to spend time with his wife and 3 children. He values traveling, meeting new people, and participating in medical mission work both internationally & stateside. In his free time his interests include surfing, fish and game conservation, following Texas A&M athletics and coaching youth sports; he is a member of the Surfrider Foundation.
Christine Hanna, PA-C grew up in Jacksonville, FL. She attended Florida State University before earning a Bachelor of Health Science degree from University of North Florida. She then went on to earn a Masters of Science in Physician Assistant Studies in 2010 at Pace University in New York City, NY. She spent her first year working in Urgent Care before transferring to the field of Allergy/Immunology in 2012. Christine joined FAAC in September 2019 and continues to thoroughly enjoy serving the Jacksonville community. Outside of work, Christine loves spending time with her family, traveling, meeting new people, and watching football. She is an avid FSU fan, Go Noles!
Amanda Michaud, DMSc, PA-C, AE-C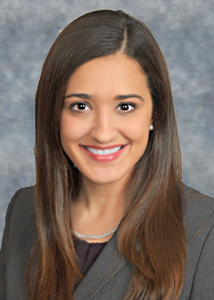 Amanda graduated from Midwestern University's Physician Assistant program in 2012 and has been a practicing PA in allergy and immunology since 2014. Prior to moving to Florida and joining FAAC, Amanda was employed at Arizona Asthma and Allergy Institute in Scottsdale, Arizona. While in Arizona, she was also involved as a sub-investigator for numerous research studies in adult and pediatric asthma, atopic dermatitis, and food allergy. She has served on the Board of Directors for the Association of PA's in Allergy, Asthma, and Immunology since 2017, and also holds committee appointments with the American College of Allergy, Asthma, and Immunology (ACAAI) and the American Academy of Allergy, Asthma, and Immunology (AAAAI). She has served as Chief PA for the AAAAI since 2018, representing all PAs who practice in the allergy specialty. She recently completed her doctorate degree from University of Lynchburg in 2022. In her freetime, she enjoys traveling, hiking, spending time with her family, and coaching and playing ice hockey.

Teresa Posadas APRN grew up in Peru and moved to Jacksonville in 2001. Prior to coming to the US, she earned her MD from the University of San Martín de Porres. She later completed her Bachelor of Science in Nursing at the University of Sacred Heart in San Juan – Puerto Rico and then attained her Master of Science degree at South University in Savannah – Georgia. She holds her national board certification with the American Nurses Credentialing Center (AANP) as a family nurse practitioner and Clinical Documentation Improvement Specialist (CDDS). Teresa has worked in a variety of outpatient settings such as pediatrics, urgent care, and gynecology. She has been with Allergy and Asthma Consultants for 5 years and is fluent in Spanish. In her spare time, she enjoys traveling, visiting family, and volunteering.